The global football landscape may just be about to change.
A decade ago, the Major League Soccer found itself on the brink of oblivion with dwindling attendances and just 10 teams nationwide. Fast forward to 2013 and it is a very different picture.  A poll by ESPN in 2012 showed that more than a third of Americans described themselves as fans of MLS, an increase of 24% in just five years and a 33% rise since 2002. Attendances also continue to grow at a steady rate, with the Seattle Sounders recently posting record attendance figures of 44,038 per game.
To put that into context, that's higher than 15 of the 20 Premier League clubs – including Chelsea – and higher than any team in Major League Baseball (save for the Los Angeles Dodgers, who averaged 46,216).
The quality of the league has always been a criticism leveled at MLS – and not without reason. There is no doubt that it has improved dramatically, but two recent announcements may finally establish the league as a global property and see football truly living up to its billing as 'the global game'. Although none of this will happen overnight, in time it could present sponsors with a platform from which to deliver fully-integrated campaigns across both North America and Europe – not to mention Central and South America.
A clause in David Beckham's MLS contract gives him the option to pay $25 million to start an expansion franchise upon retirement. Miami has been identified as the likely city and LeBron James – one of the country's most high profile athletes – is reported to be a major investor. Elsewhere, Manchester City, in partnership with the New York Yankees, have announced the acquisition of the MLS' 20th franchise - New York City Football Club.
Add to these NBC's deal to show Premier League games – worth a reported $250m (£157m) over the next three seasons – and the scale of football's potential in the United States begins to become clear.
There is no doubt that Beckham, LeBron and the owners of both Manchester City and the Yankees have the financial clout to attract high-profile players, but they must be careful not to fall into the trap of the leagues in China and Australia (and to an extent the MLS itself), where ageing superstars of the world game see one last payday.
If the league is to be taken seriously by fans and sponsors alike, there needs to be a change of strategy in the acquisition of players. It is likely that Manchester City will pave the way for their youngest stars to be loaned to New York, and, as the quality of the league improves, others in the Premier League may follow, seeing it as another way into the lucrative US market. But, I believe the biggest opportunity, both from a league quality and commercial perspective lies in Central and South America – particularly Brazil.
At present, many of South America's brightest stars make their way to super-rich clubs of Russia and Eastern Europe before securing a transfer to one of the major European teams. The MLS must seek to position itself as a viable alternative for the brightest young talents.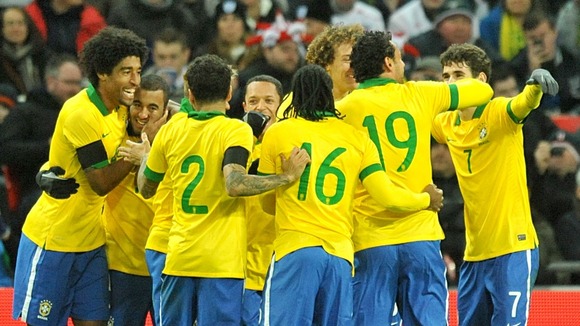 A South American star making their name in the US could be a valuable asset for the league. Whilst the FIFA World Cup in 2014 may come too soon, the emerging economy of Brazil, in particular, could unlock big brand investment into the United States – helping to accelerate what is already a meteoric rise is the popularity of 'soccer' in the US and launch it as a truly global property.
Maybe only now are the building blocks in place for the US to take its seat at football's top table – an open goal for sponsors in the United States and beyond.
By Tom Whiteside on November 21st, 2013
Tags: Barclays Premier League, Brazil, Brazil 2014, Celebrity, David Beckham, Football, Football Sponsorship, Sponsorship, Sponsorship consultancy, Sport, Synergy, World Cup